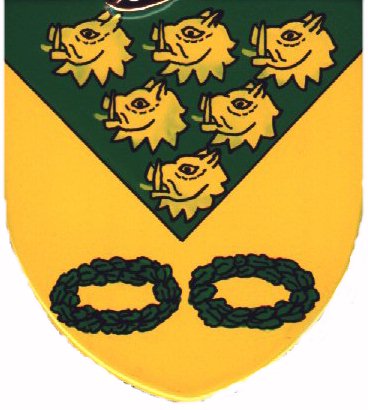 FROM AMORIAL FAMILIES
MAJOR GENERAL JOHN EDWARD SWINDLEY served in the KAFFIR WAR 1852-1853, in the CRIMEA 1855, was at SEBASTOPOL, served on the INDIAN MUTINY CAMPAIGN 1858-59, and commanded the 15th HUSSARS during the AFGAN WAR 1878-79. Retired in 1884.
AMOURIAL BEARINGS
Or on a PILE VERT, between two wreaths of Oak in base of last,
Sic boars heads erased, three, two, one of the field.
CREST
Upon wreath of the colours, Sword erect proper, pendant from the hilt by a
chain or, am escutcheon vert. charges with a boars head erased also or.
MOTTO
A CUSPIDE HONAS
Postal Address: - 60 Pall Mall London S W
Club: - Army and Navy
Back to the Family History Research Page